Sweet Home Alabama- click for a little Lynard Skynard rendition of my featured title while I welcome you to Alabama the Beautiful!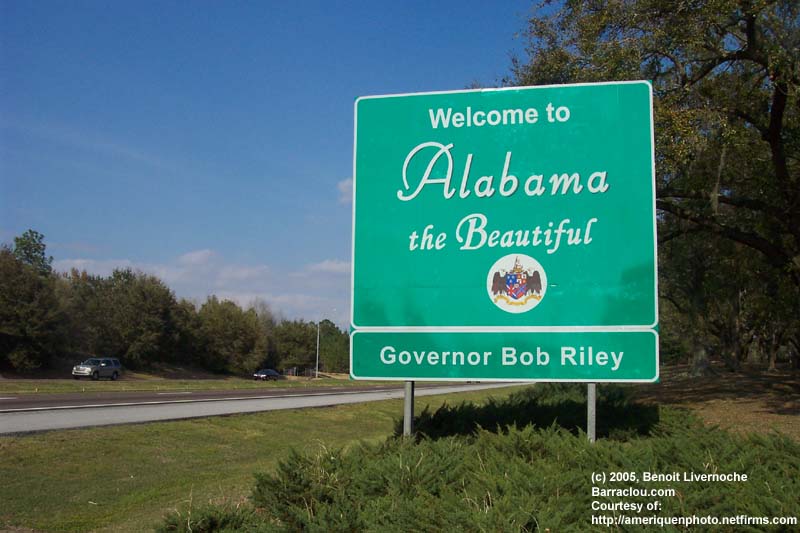 This is a matter of opinion, if you ask me...



Ok- seriously, a few informational tidbits about Alabama...

Origin of State Name: The name was derived from two Choctaw words roughly meaning vegetation (alba) and gatherer (amo), used to describe the Alabama people.

Nickname for State: The Yellowhammer State. During the Civil War a company of Alabama soldiers decked their uniforms with yellow trimmings that resembled the wing patches of the yellowhammer, the state bird. Other nicknames include The Heart of Dixie and The Cotton State.

The State insect is the Monarch Butterfly? (Why not the Boll Weevil? More on this later!)

Did you know...

Workers in Alabama built the first rocket to put humans on the moon?
The first electric trolley streetcars in the US began operating in 1866 in Montgomery?
Montgomery was the birthplace and capital of the Confederate States of America?
Alabama is the only state with all major natural resources needed to make iron and steel?
Alabama is the Peanut Capital of the World? Fifty percent of all the peanuts produced in the U.S. are grown within 100 miles of Dothan, Alabama.

But did you also know..

In Alabama it's against the law to play dominoes on Sunday?
In Lee County Alabama it's illegal to sell peanuts after sundown on a Wednesday?
The State Slogan is: Yes, We Have Electricity?
In Alabama it is illegal to carry a comb in your pocket, because it may be used as a weapon? This comes after a 13 year old boy was killed when he was stabbed with a comb.
In Alabama Putting salt on a railraod track may be punishable by death?

I wonder if my history buff father-in-law knew about these interesting facts!! :)

Now, all you native Alabamans or Alabamians, I am sure that Alabama the Beautiful has many fine qualities and attractions to offer, I have just yet to find them!