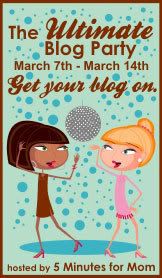 It's party time! Come one, come all and "get your blog on!" The ladies over at 5 Minutes for Mom are hosting the Ultimate Blog Party 2008 and you don't want to miss it! There will be fun, friends and freebies- who could ask for anything more? Ok, I might ask for a few more dollars or a few less pounds but we can't have everything now, can we?
Now, let me introduce myself and welcome you here to Sweet Home Alabama! I'm Lisa, a northern girl who's been temporarily transplanted in the deep south, where sushi is still called bait. You'll notice that my blog is titled after the movie 'Sweet Home Alabama.' It combines my love for the movie and the southern colloquialisms and the fact that Alabama is Home Sweet Home-for now! I poke fun at the south and the state of Alabama but it's all in good fun so don't go gittin yer gussie up-it's how I cope! I also poke fun at my hometown- it was once in the Guiness Book of World Records for having the most bars per square capita. And no, I did not have my baby in a bar! But it sure has been an interesting journey transitioning from career woman to stay at home Mommy to two strong-willed young'uns, Sprout and Sprite, while my husband (aka Hubs) is a pilot in the US Army. Most days I don't know whether to scratch my watch or wind my butt! You're welcome to come along on this crazy journey but just be sure to bring your earplugs and bug spray; my kids are loud and the bugs are fierce. Or is it my kids are fierce and the bugs are loud? ;)
So what are you waiting for? Come on in and stay for a while- I make a mean Margarita! Introduce yourself and feel free to share an expression from your neck of the woods or poke fun at the north-I can take it! And remember, it's all in good fun, so don't go gittin as mad as a mule chewin' on bumblebees! And if anyone, who does not already know me and is not from my hometown, wants to take a stab at where I grew up, I'll throw in your choice of this or this for the first right answer!
Thanks for stopping by and ya'll come back now, ya hear!
With so many awesome prizes being given away it is hard to narrow it down but since I would really love a new blog design, my top three picks would be:
24 — Blog Design Provided by: Sweet 'n Simple Design
45 — Custom Blog Design Provided by: Summer
67 — Blog Makeover Provided by: Shauna
And if my top three picks are already chosen, I'd love any of the following (in order of preference): 1, 14, 34, 12, 15, 61 or anything else related to babies and young children since I have an 18 month old and a 5 year old.
Thanks!!!!